Caregiver of the Month – April 2019
Care at Home would like to announce the Caregiver of the Month for April 2019.  Her name is Haddy M.
Haddy is a live-in caregiver that has provided amazing care for our clients and is an absolute pleasure to work with.  In addition to her amazing caregiver skills, Haddy goes above and beyond to ensure that her clients are well taken care of and that the office is always alerted to any changes or issues that arise.
As of late, one of her clients has been in the hospital with an illness, and Haddy has chosen to stay on with the case and care for her client while she is in the hospital.  Going and staying with her throughout the day, feeding her and making sure that her needs never go unattended.  This client's family sings her praises constantly.  We are truly lucky to have Haddy as a member of our Care At Home team and are overjoyed to award her the honor of Caregiver of the Month.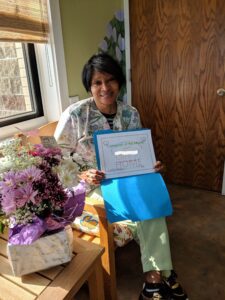 Do you want to be part of an award-winning team that sets the standard for home care in Connecticut and Rhode Island?